I've been going on several (window) shopping trips recently.. in preparation for Boxing Day Sale. I have a game plan -- a shopping list in the form of a collage. And BOOYYYYY, did I shop!! I splurged quite a bit.. a list of my war prizes.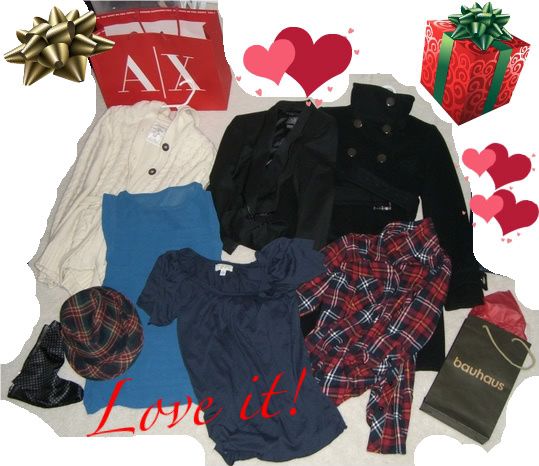 I've gone photobucket - edit crazy. Then the save failed on me again. I don't know what's going on with this image...


First, the greatest prize of all:


Aritizia virgin wool coat with 15% cashmere, double breasted with standing collar and belt, with slim waist cutting, reaches just above the knee. It has everything I've been looking for in a winter coat. Here is the crazy story that accompanies this coat:

I first noticed this coat a month ago when I went to Yorkdale and made the routine visit to Aritzia. I saw this rack of winter coats - only hip length and saw they were quite nice. Then I noticed there was a longer version. You can get this Virgin Wool Tabula coat for $350 +tax. Holieeeeeeeeeeeeeeeeeeeeeeeeeeeeeeeeee. That's almost $3000 HK. I wanted this in long and gray, while a friend was deciding between the short or long version in black. We decided that if it went on sale, we would consider. Later, I went shopping with a friend downtown and I mentioned that I liked a coat from Aritizia... and we ended up liking the exact same one, long and gray! we both thought it was too pricey, so didn't think too much of it.
Come boxing day, and the moment I stepped into Aritzia I made a beeline straight for the rack of long coats. I searched and searched for a long gray one in XSMALL, but only found a black one. I asked a friend to line up at the cash first, and I took one last check all around the shop in case someone stashed it in a corner. No luck. And as I stood in line holding the coat, still contemplating on this $299+ tax, I got a call and kept talking as the line moved... andvery soon, I approached the cashier who began asking, "what is your method of payment?" I handed over my credit card while still on the phone.. and somehow, vacantly, frantic, hypnotized.... dreading the bill in my mind, while signing the receipt... I paid $337.78 for this baby. This coat, I will wear for the next 10 winters.

Next, is my first purchase:


A blue tiered dress from an unknown brand. The shop usually sells an assortment of brand name items, and I found this really cute dress for $14.99! I can wear this with leggings, jeans, a blazer, cardigan, for clubbing, dinners, banquets, lunch, anything! What a deal!

Next is my cheapest purchase on boxing day: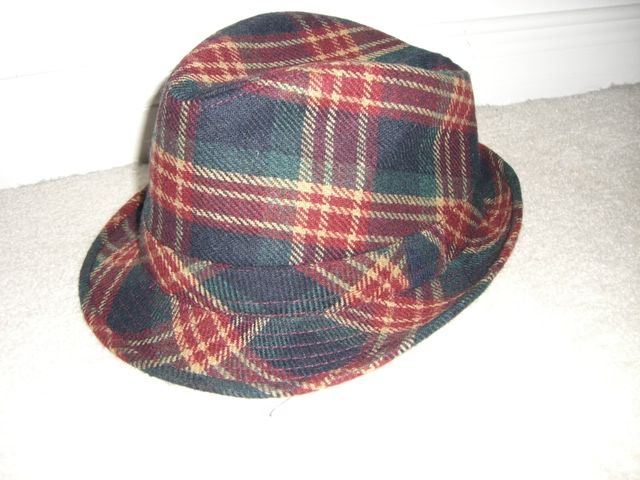 A Zara fedora in trendy plaid for $9.95! I better wear it often :)

And next, is my post-boxing day splurge...


This Armani Exchange tux blazer was spotted and tried after spotting a similar one in FCUK on a followup trip to Yorkdale, which had sleeves too long. This was a bit better... and fits so well. A splurge that I consider an investment, because like the coat, it is in a classic shape and fitting cut that I can wear for many seasons. It was worth the $69+tax = 77.xx. What a splurge....

Next are some things I bought before boxing day madness.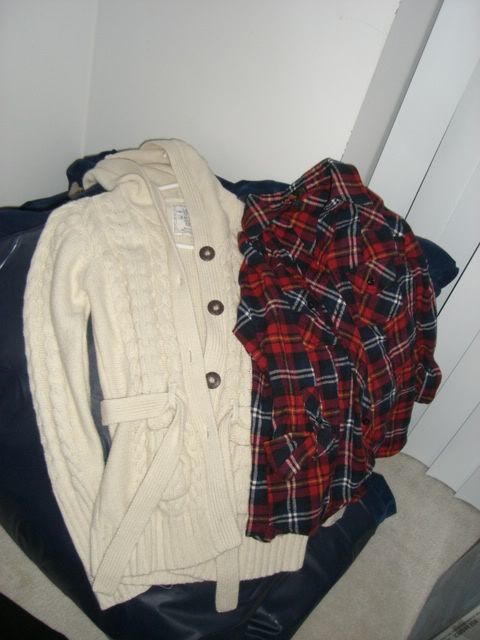 My sisster made an order for Forever21 online, and I ordered along with several plain t shirts a plaid lumberjack blouse. It's such a seasonal item, and I was shocked to find that it was not a flimsy cotton tissue but of a thick, though synthetic, material. It's a bit loose fitted, so I might need to wrap a thin belt over it. I think it was under $25.
The sweater next to it is from H&M - kid's section! It was quite a find. I always check out H&M kid's section because the clothes are cheaper and the largest size fits me. It's got buttons, a belt, and hood - pretty nice features for a warm, snug sweater. Just when I needed one :) $29.00.

Also in the picture are some items from today: a blue pleated top from UO for $5, and a vintage hankie my sister found in the market - Christian Dior for $5!! That goes with the item in the bauhaus bag... it's not actually from bauhaus, but I put it in there.... it's a secret for now :)

I also bought a pair of booties from Zara - beige faux suede for $39.95. Thought I'd give them a try when the snow and puddles disappear!!

At the end of the month, I would need to tally my injuries (in my credit card bill) and fabricate some numbers to show the Economic Authority/Financer.




Gosh, Sindy. What a conceited post. Spending so much money when I have no school during this economic crisis. Huge splurges too!!!! arghhhhhh