I don't know when it started, but my favourite meal of the day has always been Breakfast/Brunch.
Maybe it started with McDonald's hash browns which were only limited to early mornings, and McDonald's perfectly scrambled eggs and sausage patties. Then I realized they were available in supermarkets and had them almost everyday. I've always loved eggs since I was little. Dinner was enough if I had a sunny side up or soft-boiled egg with rice. Spam was also a favourite. Then there were sugary cereals with chocolate milk, congee with deep fried dough sticks, dimsum, and homemade waffles. It was in this fully occupied home that I, at the young age of 5, learned about the tiny jars of jam, waffle machines, grilled toast machines, and the exquisite maple syrup which was a splurge in Hong Kong (and even in North America for good quality ones). It was always a magical experience having a meal at that home. Every other weekend, several women would whisk up batters and sauces for novel dishes and comfort foods in this tiny kitchen smaller than most North American bathrooms. That's when I fell in love with... pancakes.

Recently, I have participated in many potlucks and had a lot of spare time to check out different recipes. I enjoyed cooking for other people much more than just for myself. The only time I enjoyed cooking for myself is brunch. I fell in love with and perfected the lazy Eggs Benedict (the perfect poached eggs, and hollandaise sauce from stuff at home). Scrambled eggs, which may seem like the simplest food to make, is still under practice. I don't think I would stop talking, so I'll jump right to my topic: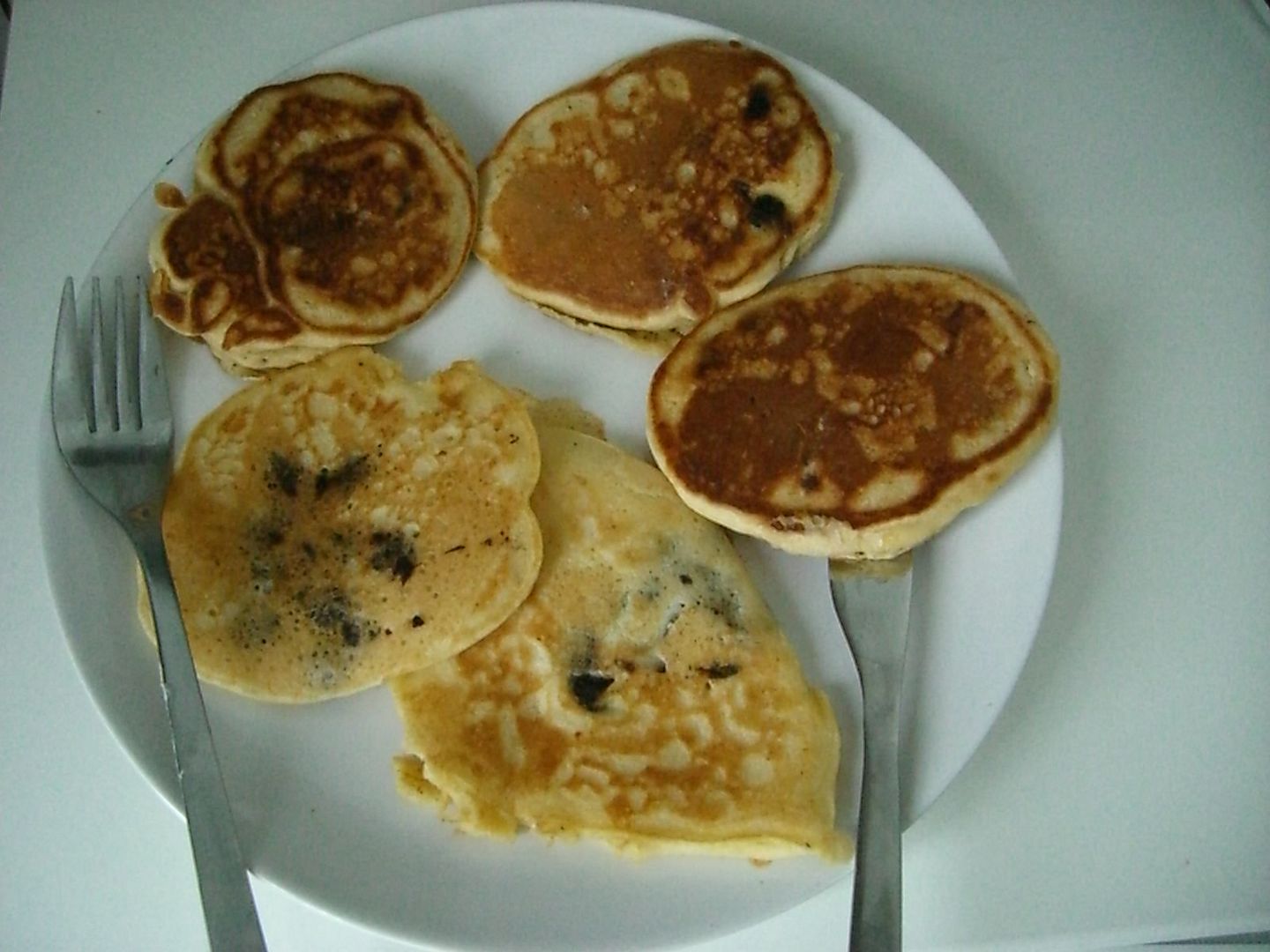 Pictured above are the Chocolate Chip pancakes I made this morning. I tried thinning out the batter, and I think I prefer that. I made it by using Aunt Jemima's Buttermilk pancake mix and Dark Chocolate Chips. The trick is to add the chips after the batter is in the pan.

I love chocolate, so I tried making chocolate pancakes. A guest left some cocoa powder after a brownie-baking session, so I tried to add some to my regular pancake mix.




I cooked it as usual, but realized it was a bit too heavy on the cocoa, so sprinkled some brown sugar on them.




And finished with some icing sugar to really bring more sweetness to it.





Serve sweet, fluffy pancakes strips of slightly crispy bacon.