As a followup to pancakes, I tried out this recipe for Dutch Baby Pancakes. They're actually a German recipe; oven pancakes that puff up as it is baked in a hot skillet, and then deflate a little when served. I was tempted by Orangette's recipe. I modified by cutting it down to one serving, used whole wheat flour, and a regular cake springpan -- had to make do with what I had

The lamp in my oven didn't work, so I was not able to observe and take photos as the Baby inflated. But this is how it looked like straight out of the oven: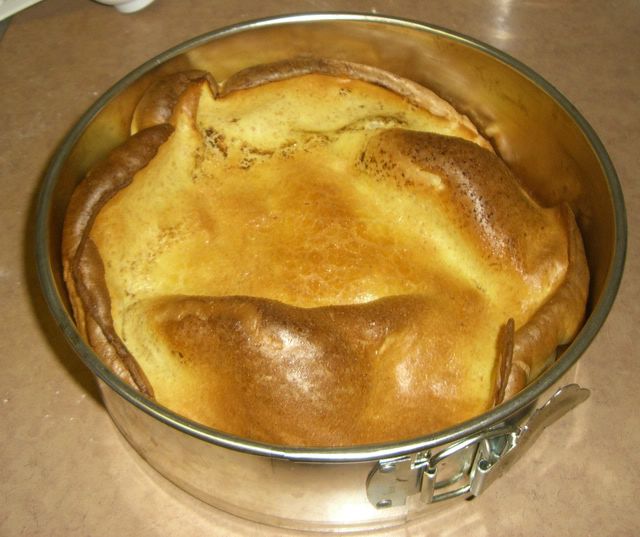 Looks nice and golden, eh? But there isn't much activity going on. I would have expected it to be heaving. I took it out of the pan and onto a plate, but it didn't seem to deflate much as well. Maybe I should have used the recommended casserole or pie dish next time.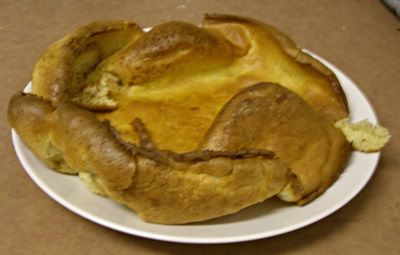 Serve with lemon juice and some icing sugar, and tah-dah!



It wasn't as great as I had expected from all the raving reviews. Maybe it was the whole wheat flour, or the lack of a generous helping of butter, or maybe even the pan itself.
The edges were a little crispy, which would have been a great contrast if the general pancake was fluffier. It tasted quite bland. It's a bit too healthy and unhearty for me. I had to satisfy my tummy with some good ol' bacon, eggs, and buttered toast. Maybe next time!


What I did:
RECIPE: Dutch Baby Pancake - 1 serving
1/4 cup whole wheat flour
1/4 cup skim milk
2 eggs
2 tbsp unsalted butter
Preheat oven to 450F, with pan in it.
Put butter in heated pan to grease it.
Mix flour, milk, and eggs, and poured mixture into pan.
Bake for 20 minutes.
Serve with icing sugar and lemon juice. (and bacon!)